Wine Cellar 12 bottles Dual Zone AGE12WV
Clasification : Home
Wine lover looking for a cellar to store your best wine bottles?
01. INTELLIGENT
Equipped with an adjustable temperature selection which is accurate to the degree, the wine cellar AGE12WV H.Koenig ensures an optimal tasting and conservation of wine.
02. EFFICIENT
Thanks to the Dual Zone system you can divide your cellar into 2 areas and assure the perfect temperature according to the type of wine.
03. PERFECTIONIST
The AGE12WV is extremely silent thanks to the thermo-electric technology and the anti-vibration system assures a steady quality of the stored wine.
SPECIFICATIONS
Capacity 34L – 12 bottles
Wine Cellar 2 temperature zones
Adjustable temperature from 8°C to 18°C
Thermo-electric system
Anti-vibration system
Noise level 40 DB
4 wooden shelfs
LED light
< Back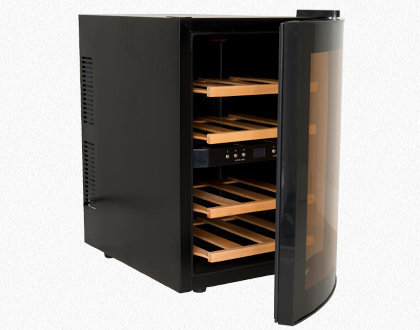 Capacity 34L – 12 bottles
Wine Cellar 2 temperature zones
Adjustable temperature from 8°C to 18°C
Anti-vibration system