Air Purifier PureAir+ AIR800
Clasification : Home
Looking for a solution for cleaner air?
Enjoy a healthier life with the Air Purifier AIR800 H.Koenig.

01. INTELLIGENT
Thanks to its patented technology, its Hepa filter eliminates up to 99.97% of ultrafine airborne, airborne particulate matter and airbone in suspension.
02. EFFICIENT
Fight against kitchen smells, cigarette smoke and dust with the H.Koenig AIR800 Air Purifier.
With its modern, elegant design and compact size, it will perfectly fit into any type of interior: ideal for your living room, bedroom, children's room.
03. PERFECTIONIST
It will soon be forgotten thanks to its silent mode.
Efficient thanks to its 5 air treatment levels, it eliminates large and fine particles, smells, germs and bacteria.
Protect your health day by day with the PureAir + AIR800 H.Koenig Air Purifier.
SPECIFICATIONS
Quintuple filtering system:
Prefilter
HEPA filter
Activated carbon filter
UV-C Light
Photo Catalyst
Noise level from 30dB to 50dB
Ionizer
Filter cleaning indicator
Autonomy up to 8h
Automatic shut-off function
3 Speeds
Touch Control Panel
< Back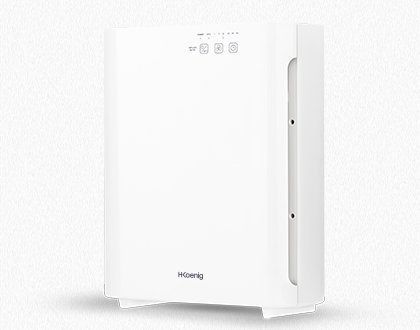 Quintuple filtering system:
HEPA filter
Activated carbon filter
UV-C Light
Photo Catalyst
Noise level from 30dB to 50dB
Ionizer
3 Speeds