KOL7812
Clasification : Home
Keep your home at the perfect temperature!
The H.Koenig KOL7812 mobile air conditioner Reversible + combines all the functions you need in one device. It is economical and environmentally friendly with its energy class A.

Your home quickly finds a pleasant temperature thanks to its 5 functions to answer all your needs. Depending on the situation, you can choose the modes: cooling, ventilation, dehumidification, heating and special sleep.

Do not hesitate to place it next to your bed with its "special sleep" function it will not prevent you from sleeping. On the contrary, with its cooling capacity of 3500 Watts, it ensures an ideal temperature to sleep better at night, whatever the weather conditions.

Anticipate your needs, you can program it up to 24 hours in advance on its LCD screen to have an ideal temperature when you arrive at home.

The KOL7812, for a permanent comfort at home!
< Back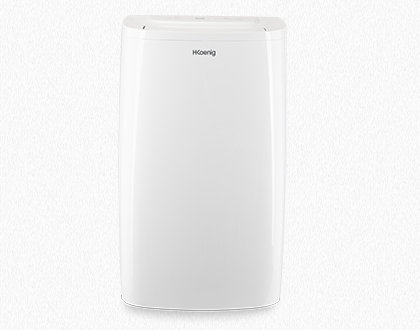 Energy class : A
Functions: cooling, fan, dehumidifying, heating
Sleep comfort
3 fan speeds
24h timer function
Accessories: LCD remote control, exhaust hose, air exhaust tube
Cooling power : 3500 W / 12000 BTU