Some tips to get the best out of your H.Koenig grills and griddles and share a good moment with friends and family.
How to clean easily your H.Koenig raclette grill.
After using your H.Koenig raclette grill, let the plate cool down. All the components of your H.Koenig grill are easily cleanable with a sponge soaked with hot water and some dishwashing liquid. For an even easier usage, the removable components from your H.Koenig grill go in most case in the dishwasher. To preserve your appliance, avoid using metallic sponge or abrasive cleaners.
Vary pleasures with your H.Koenig Raclette Grill.
How about changing your usual recipes and trying a raclette with chicken curry thanks to your H.Koenig Raclette grill? In order to do so, cook thin slices of chicken breast in a pan, and get some cream mixed with curry powder, salt, pepper, Holland cheese in thin slices and an apple with lemon juice. In a raclette pan, add the chicken, a spoon of the curry cream and let it warm up during 2minutes, add the cheese slice and pieces of apple. Let it grill and enjoy!
Use this trick to clean efficiently your H.Koenig griddle.
The hardest part is to remove meat or fishes juices that grilled and dried up. Before using your spatula, add ice cubes on the H.Koenig griddle. While melting, they will remove the juices and it will be much easier than with water that will evaporate too quickly. Finish by using a damp cloth and your H.Koenig griddle can be stored.
For a perfect cooking, master the temperature of your H.Koenig griddle
The initial temperature of your H.Koenig griddle is important, but keeping it or modulating it as as well. It all depends if you want to cook at the same time ingredients with various cooking temperature, or a lot of one ingredient which would then require a large space with the same temperature. The following temperatures are recommended as maximal ones for those ingredients: 220° for vegetables, 250° for meats, 260° for fishes at first and then lower to 220°.
Don't forget marinades for your H.Koenig griddles
A few hours before cooking with your H.Koenig griddle, marinate your ingredients for more flavors. A tip: use a cooking brush and do it at least twice. Take your marinated ingredients from the fridge at least 30minutes before cooking with your H.Koenig griddle.
Another trick: use freezer bags, so the ingredients stay in contact with the marinade all along.
< Back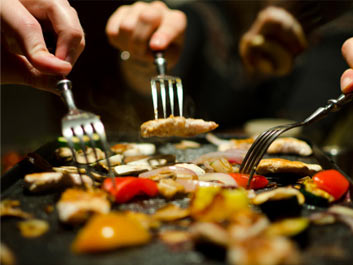 Related products